R. Daniel Shephard, CFRE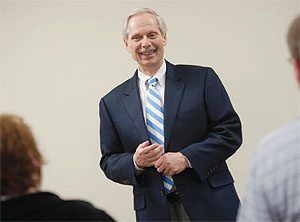 Frontline Fundraiser Training and Consulting
dan@thefrontlinefundraiser.com
Dan Shephard has served as a frontline fundraiser in Planned Giving and Major Giving positions for the Florida State University Foundation, Pamplin College of Business at Virginia Tech, The Citadel Foundation, and Chase College of Law at Northern Kentucky University. His three decades of varied experiences, first in the performing arts, then in higher education, help form the philosophies that guide his workshops and coaching work.


---
Our Experts
We're a group of like-minded professionals who share a perspective – it's all about the donor. Regardless of area of expertise, we place a priority on relationship- building.
Craig H. Smith
Major Gift Planning, Staff Leadership, Campaign Management
craig@johnbrownlimited.com
Craig is best known for his leadership, personal solicitation skills, and gift planning know-how.  His work as a Senior Consultant with John Brown Limited spans more than 25 years.  He has directed client relations in higher education, the arts, healthcare, and cultural organizations nationwide, including the National Geographic Society, the University of Michigan, all of the campuses of the University of North Carolina, Columbia University, the Smithsonian Institution, and the Museum of Fine Arts in Boston. He has helped to develop and manage campaigns from as small at $6 million to as large as $2.5 billion.
Craig served previously for a decade as Associate Vice President for Development at Rochester Institute of Technology.  In this role, he managed a group of 24 professionals in major gifts, corporate and foundation relations, and development communications.  RIT field officers were training to employ a combination of activity and dollar-based metrics to drive their success, and to routinely use gift planning tools and techniques in their day-to-day interactions with donors.
Craig is dedicated to creatively bringing together philanthropists and worthy charitable causes to assure maximum tax advantage for donors while assisting development officers in reaching their important goals.
Lori Hood Lawson, MLSc
Data Analysis, Prospect Identification, Screening and Research, Prospect Management, Social Media
Lori@WorkingPhilanthropy.com

Lori utilizes her years of institutional development research experience to help organizations turn data into actionable fundraising intelligence. Prior to founding WorkingPhilanthropy.com, Lawson served as Director of Strategic Solutions for Kintera P!N, where she managed a team of consultants, serving more than 300 nonprofit organizations in identification of prospective donors via wealth screening. Before joining P!N, Lawson enjoyed the role of Associate Director of Research for The Florida State University Foundation. Lori is a member of the Membership Committee and the Ethics Committee for the Association of Professional Researchers for Advancement International (APRA) and has served on the board of the Florida chapter of APRA. She is also a member of the Prospect Development Best Practices Committee for the Association of Advancement Services Professionals. She is a frequent author of articles and blogs, and a speaker at industry conferences. You can find her on Twitter as @WorkingLori and connect with her on LinkedIn.
Steven B. Libman
Strategic Planning, Branding, Change Management, Operational Planning, Capital Gift Planning
stevenlibman@gmail.com
www.thelibmangroup.com
Steven is a highly successful and respected executive with 30 years of experience leading major arts organizations; he has extensive knowledge of producing dance, theatre and presenting multi-disciplinary performing arts series. He is nationally recognized for developing an entrepreneurial and creative approach to strategic planning, programming, branding, marketing initiatives, institutional growth, and problem solving. At the Center for the Performing Arts in Carmel IN, Steven launched the new $175 million, three venue performing arts center. As the chief administrative officer of the Tony Award winning La Jolla Playhouse, Steven ran a four venue complex that produced over 300 performances per season, and produced 28 plays, including ten world premiers. He directed all strategic planning, financial management, fund raising and marketing. He has raised over $ 100M through his career.
Kurt R. Moore, CFRE
Corporate and Foundation Relations; Grant Writing and Training; Intellectual Property Development, Management and Licensing
kurt.moore.cfre@gmail.com
Kurt is principal and founder of KRMoore+Associates, providing fundraising training for the small nonprofit. He has held successively responsible fundraising positions up to associate vice president for advancement, personally covering the areas of corporate relations, foundation relations, planned giving and major gifts, in addition to managing other areas of fund development operations. His 30-year career spans a variety of institutions from small private liberal arts colleges to large public research universities including Cornell, Florida State University, Elon University, and LeMoyne College. He has additional experience in intellectual property development as the past Assistant Vice President for Technology Transfer at Florida Atlantic University managing FAU's patent and intellectual property portfolio. He has also held faculty positions teaching fundraising in public administration and nonprofit management graduate degree programs as well as being a speaker at state and national conferences.
Our Affiliates
John Brown Limited
John Brown Limited is dedicated to serving non-profit organizations and the donors and volunteers who support them. We provide capital and endowment campaign counsel, assessment and strategies for building a sustainable development and major/planned gifts program, marketing advice, on- and off-site board, staff, and donor education.
Bloomerang
Bloomerang helps nonprofit organizations to reach, engage and retain the advocates they depend on to achieve their vision for a better world. Our cloud-based donor management application is rooted in principles of philanthropy, simple to use and focused on empowering your team to achieve remarkable results through enhanced donor loyalty.
Network for Good
Network for Good is a hybrid organization—a nonprofit-owned for-profit. Network for Good's nonprofit donor-advised fund uses the Internet and mobile technology to securely and efficiently distribute thousands of donations from donors to their favorite charities each year. Our Certified B Corporation software company offers innovative, easy-to-use fundraising software and coaching for nonprofits. We provide nonprofits, corporations, and software developers with simple solutions to power the good they do with supporters, employees, and consumers.